In Memory....
Benson was our first Springer

He was born in 1984
and died at 14 years of age
Sapphires Tailor Made - "Julie"
4/9/01 - 2/3/16
Today we lost one of our babies, after almost 15 years. She was never a show dog, always our beloved pet. She was such a sweet soul, always kissing everyone all the time, with an adorable look and that little dot on her nose. She accepted whatever we asked of her and was happy to cooperate. Julie used to entertain all the kids that came through my house with her antics. She was a toy killer, finding and destroying any stuffed toys in minutes. I once bought her a really expensive supposedly indestructible toy and it took her 15 minutes on that one, but she got it. She belonged to my son Dan, he was 10 when he got her, and looked for him when he came home. They had this game of chase that they would play for hours - he'd chase her with a toy in her mouth and then she'd chase him with the toy still in her mouth. This was a game that only she would play, none of the other dogs "got it". Dan and Julie grew up with this wonderful relationship, but now Dan is grown and lives elsewhere and Julie has progressively gotten more and more feeble. Her health has been deteriorating for a long time now, but it has been a slow downward slide.
Julie was sired by CH. Serenades Stetson and out of CH. Dejays Sapphire Songbird. Her dam passed at 6 years old from Lymphoma so I was worried about Julie and her siblings, but three of them are still alive today. She gave us one litter of lovely puppies and then was spayed and lived the rest of her days as our "special one". She was whelped by c-section and took her first breath in my husband's hand and he and Dan were with her tonight when she took her last. Our hearts are broken! Please pray that she is well, happy and healthy waiting at the Rainbow Bridge.

Sapphires Poetry in Motion - "Poet"

Ch Twin Oaks Sacred Aria
X
Ch Sapphire Twin Oaks Dancin on Ice

Bred by Laureen & Don Camisi and Tom Faust
Owned by Joanne Caperna Ford, Tom Ford and Laureen Camisi

Rest in Peace Dear Girl
Remembering: BISS CH. Twin Oaks N' Sapphire Makin' Waves - "Chessie"

(CH Raylyns Carved From Rock x Twin Oaks Moondancer)
12/9/2001 – 12/1/2014
It is with a very heavy heart that I sit to write this. We had to say goodbye to our very special little lady. I am trying very hard to write down what this girl meant to all of us, but it's impossible. She was everything!! Chessie was a very small springer, but she was also larger than life and a huge part of the three of our lives, my husband Don, Tom Faust and me. She was responsible for cementing an amazing relationship between Tom Faust and my family. Tom bred her and entrusted her with us and we are forever thankful for the confidence he had in us.

Chessie adopted my husband Don as her "person" from early on, she was his dog and they had a special bond. At home, she was the queen and demanded to be treated as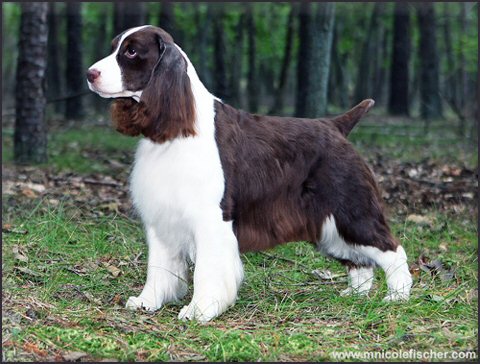 such. She was the only springer I have ever had who could catch a Frisbee out of the air with all four feet off the ground, like a border collie. She had such a zest for life that it was infectious. My husband would describe her as strong willed, competitive, structured; and of course, having the cutest face in the world. She would rather have her teeth pulled out then to let you win in a tug of war. She would bark if you were late in giving her dinner. It might have been annoying, but you knew she was right. She would let you know if you forgot to give her late night big cookie snack; or anything else out of routine, but you always knew she was right. Don says that the thing he remembers most about Chessie was that she had a Regal Presence about her – like she thought that she belonged to some canine royal family. Like she knew that she was something special. And you know what, she was right. We will miss her tremendously.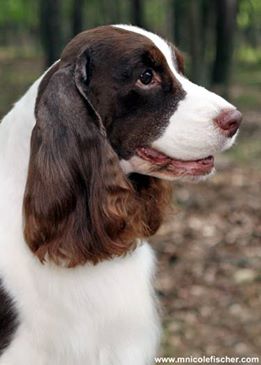 As a show springer she was a force to be reckoned with. Always showing like "someone left the gate open", never having a bad show day, always loving every minute of her time in the ring and always moving with purpose and determination. As a bitch who was owner handled, always, she amassed quite a resume. One of her finest moments was winning Best of Breed at the 2009 ESSFTA National Specialty in St. Louis, Missouri, as a veteran. She was shown by Tom Faust. At the National they both had their "finest hour" and Chessie and Tom were "on". Chessie loved applause and would come alive when there was clapping and hooting, so she was in her element at the National. She loved showing with Tom at the end of her lead. She'd look up at him with that "let's go" look and wait for him to tell her to "go" and then "go" she would. She had many other notable Best of Breed and Best of Opposite Sex wins at Specialties and Supported Entries and A Group Placement in her career.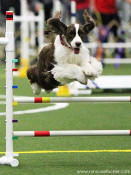 She nurtured and loved two litters of puppies and will live on in them, her grandchildren and her great grandchildren. She also loved Agility but an arthritic shoulder sidelined her agility career, however she never lost her enthusiasm for it and would gladly take a few jumps in the yard.

I want to celebrate her life and remember what she meant to us and try not to feel so overwhelmed by her death. As hard as this is to do, I know she would want us to remember her and smile.
Chessie's Champion Get:
Ch Twin Oaks N' Sapphires Memphis Queen - "Priscilla"

Chessie's Grand Kids:
Bronze GCH Sapphire N' Twin Oaks Weep No More - "Willow"
GCH Sapphire N' Twin Oaks Cabaret - "Eliza"



Ch Sapphires Power Play "Eric"

Oct 22, 1998 - Aug 30, 2010

Ch Twin Oaks Firestorm "Woody"
X
Holidays Blu Clarion "Claire"


Champion Get:
Ch Sapphire Twin Oaks Dancin On Ice "Kristi"

Grand Kids:
Sapphires Poetry in Motion - "Poet" NAJ
CH Sapphires Forever Amber, OA AXJ - "Amber"
Sapphires Jersey Girl - "Brielle" - major pointed
It is with a very heavy heart that I write this – between the tears.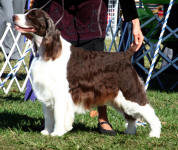 Tonight we lost our "baby boy", Ch Sapphires Power Play - "Eric". He was named after a very prominent Philadelphia Flyers Hockey player because both of my boys were active in ice hockey. Eric was just a month shy of his 12 birthday and he left us tonight with all the dignity that he deserved. If it weren't for my son Steve falling in love with Eric at two weeks old, and laying on the couch with this puppy in his arms, I probably wouldn't have kept him and would have missed out on the greatest dog ever. He was my shadow, my couch coddler, my traveling buddy and my "E-man". As a youngster he was my sons' wrestling buddy, running around the house like a psycho dog. He and my boys would have so much fun. My husband and he had a little routine, which Eric designed, to get my husband to scratch his shoulders. He was so sweet with those big, warm eyes and when he looked at me I could tell how in love with me he was, and it was mutual. Although it was hard to let him go, he had his head on my lap and he knew that he was going to be ok!!
Eric was my boys of firsts--
He was in my very first Springer litter, the fifth puppy born
He was my first homebred Champion
The first dog that I finished myself
The first dog that I won the Breed with
The first dog that I went into Group competition with
The first dog that I trained in obedience
The first dog that I showed at a National Specialty as a puppy and again as a veteran
The first dog that I showed as a veteran
He did anything that I asked of him with an adoring look in his eyes that said, "Ok, I'll do it for you, let's go". He would come alive when the show lead went on and his foot entered the show ring. For those that knew him and saw him show, I'm sure it was obvious that he loved doing it with me. We made the cut in a huge 9 - 12 month class at our very first National. He came out as a veteran at 9 years old and won quite a few Veteran Sweepstakes and Veteran Classes. When he was in the ring he moved, and move he could!!!

I can still see him running along the shoreline of the beach that he so loved. He'd run as fast and as far as he could and then look up to be sure he could see us, and then come charging back to us. This last year he couldn't even walk across our yard, so a trip to the beach this summer wasn't going to happen. He was everything that a Springer should be, and up until 6 months ago he'd patrol the perimeter of our yard with nose to the ground and tail up, as he had always done. He so loved his yard. He had a great life and was just a goofy, happy boy.

For our dear Eric, we will always remember your spirit and your soulful look, which you have given to your granddaughter. "It was quite a ride we had "my baby boy". I know that now you can run and play with your mom and dad and that you will be the first to run to me when I make my way to the bridge. It will be so nice to see you run again!!! Rest well "baby boy". Laureen Camisi

Acquired in 1995, Claire was our first show dog. She was shown lightly and bred before finishing her championship. Her only litter out of Ch Twinoaks Firestorm produced three champions. Unfortunately, Claire died before getting back into the show ring.




"Claire" - Holidays Blu Clarion

Ch Maidenheads Advocate
X
Holidays Summer Darlin

Her Champion get are:

Ch Sapphires Power Play - Eric
Ch Sapphires Blu Moon - Jasmine
Ch Sapphire Sirakian Destiny - Sierra

Sonia was owner handled for all single points and eventually finished by Howard Huber. She was a wonderful dog with all the attributes of a Springer. After finishing her championship she became our house dog and adored pet.

Champion get: Ch Sapphires Tripple Threat

"Sonia" - Ch Dejays Sapphire Songbird

Ch Dejays Cutting Edge
X
Ch Dejays Born to Boogie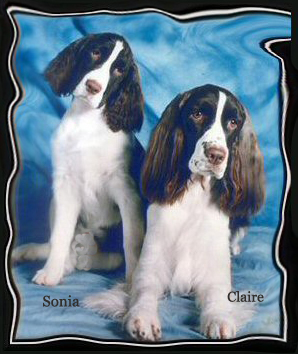 Claire and Sonia
Rest in Peace