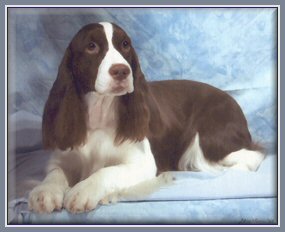 We have been involved with English Springer Spaniels since 1984, with our very first springer. His name was Benson and he was far from a show springer. In fact, he never showed or did anything special. He was however very special to us and his greatest gift to the breed and to our family was his educating and exciting us to the qualities of a Springer. We have never looked back.
In 1995, we acquired our first show springer, Holidays Blu Clarion "Claire". Claire was shown lightly and was bred before finishing her championship. She was bred to Ch Twinoaks Firestorm and produced a litter of 8 puppies. Out of this litter, which was our first litter and our first experience with breeding Springers, three puppies went on to finish their championships.
Since then we have had more litters and more champions. Our first priority is to breed dogs that people can live with, which is why we are very selective in our breeding program. We want to produce sound, healthy puppies, both mentally and physically. Nice show dogs are second in priority. We take our breeding program seriously. All dogs are OFA certified for hips and elbows and all eyes are Cerf'd annually. Our dogs are raised in our home with our family and five children. They are our beloved companions!
We've learned a lot over the years, and fortunately have had wonderful, healthy foundation dogs to build our breeding program on. The results of this can be seen in the quality of our dogs and the commitment we have made to the dogs that we've produced and to the breed itself.
Laureen Camisi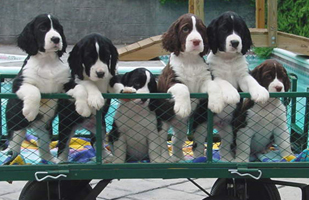 Our daughter Jodi
with little Spirit at 4 weeks old

Our son Dan with Amber
that we kept from a previous litter

Our son Dan and his girlfriend Angela


Becca, my son Mike's girlfriend and little Bobby